How do I review, make a note on, and rate a candidate?
Candidates are assigned to a reviewer by the Administrator of the account. A common work-flow scenario for the reviewer is to Login to Talentd, view, vote on and make a note on a candidate. You can easily do all three steps on one screen.
 Here are the steps to do this quickly:
1) Login to Talentd
2) Select a candidate from your candidate list.
3) It will automatically open with the view of the submitted file: PDF, image, or text, streaming video or audio player.
4) From this screen, you can read or review the candidate's application.
5) To vote on the candidate, click the Thumbs Up , ?  or Thumbs Down icons up and to the right of the resume file(s)
 6) To make a note, enter the note text in the dialog box on the right hand side of the screen. Additionally, a file can be attached to the application along with a note. Finally, choose to make the note visible to All Staff who have been assigned the resume, Private (viewable only by Level 4 and 5 staff) or to the Submitter ?(i.e. the candidate) by selecting a Visibility option. Save the note by clicking the Add Note button.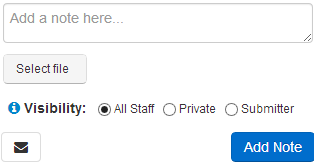 7) Send an email to the candidate by clicking the Envelope icon located just to the left of the Add Note button.